Leela
Leela is a strong Go playing program combining advances in Go programming and further original research into a small, easy to use graphical interface.
It is freely available, making it an ideal introduction to the game.
Features
Strong Go engine including multiprocessor support
2008 Computer Olympiad Silver (9x9) and Bronze (19x19) medalist
Strength about 1 kyu on 19 x 19, dan level on 9 x 9
Easy to use graphical interface
Adjustable board size (up to 37x37!), playing levels, handicap and komi
Fixed strength and time based difficulty levels
Chinese rules with positional superko
SGF format loading and saving
Rated game mode with auto-adjusting difficulty levels
Analysis mode with best variation and winning odds display
Download
Screenshots
Playing a game, showing predicted territory.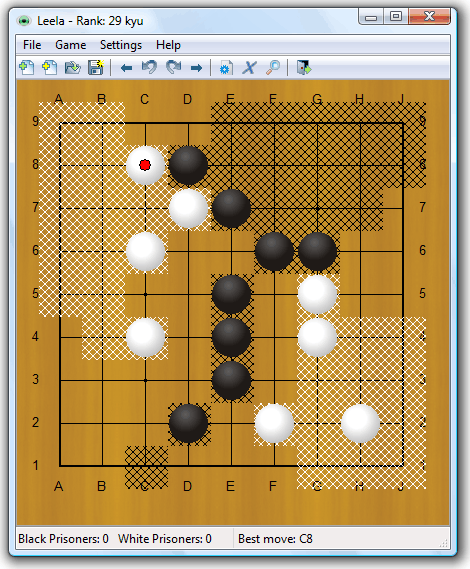 Changes
Leela 0.4.6 (2016-04-07)
Doubled size of pattern database and retuned move prediction.
Fixed a bug introduced in 0.4.x that severely degraded life and death assessment.
Other playout fixes improving life and death reading.
Total playing strength improved by about half a stone.
Dialogs will now render properly on high-DPI displays.
Installer no longer requests administrator rights (no UAC prompt).
Removed lite version. Full version is now free.